I posted earlier about an event different from it's kind; Traction OFF – Exclusive Drift Experience, Kuwait's Thrill Event. Last month (May 2014) we shared a passenger experience with different social media successors from different fields to be passengers with the Red Bull Car Park Drift – Kuwait Champion 2012 our Professional Driver Mubarak Al-Rumaidhi. The event went better than expected especially after burning more than 5 pairs of Falken Tires to please all the invitees with a thrilling passenger ride. While the drift show was busy burning rubber, Talal Al-Othman, the Team PR Manager was taking care of the hosting and making sure each person that was promised to ride was getting their turn.
Sirbb Circuit has a good spectator bridge located in the middle of the circuit to which is called the "Sky Bridge". We had volunteers to help these people regarding anything about the event, since it was a private event and spectators were welcomed to look over from the Sky Bridge. We were glad the event went smooth and most importantly we're also glad that everyone from organisers to volunteers and spectators to invitees had a blast that evening.
Video Credits to Faisal Al-Rajhi and Q8Stig.
To watch more video please visit… Faisal Al-Rajhi's blog.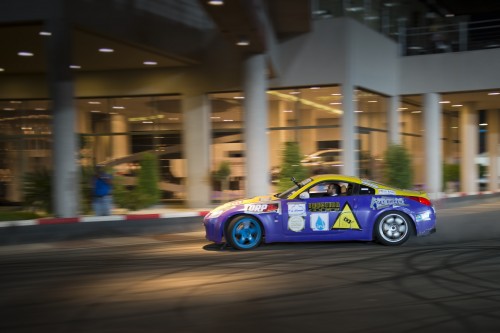 Here are more blogs that shared their experience with us..
You may also find an arabic article with our Media Sponsor..
Mubarak Al-Rumaidhi